The Charlton Athletic Women's team are pleased to announce a brand-new partnership with the The British Institute of Kitchen, Bedroom and & Bathroom Installations (BiKBBI).
The UK's first and only government sanctioned organisation dedicated to kitchen, bedroom and bathroom installations which sets the standard for kitchen, bedroom and bathroom installation in Great Britain, have signed a three-year deal which will see them become the Charlton Women's Principal Partner until 2021.
The partnership will help the club compete in the the newly-formed FA Women's Championship, the second highest division in women's football, as well as open up more opportunities for females to learn more about vocational apprenticeships and career opportunities within the home improvement sector – a sector that is currently male dominated - where they can be taught skills to open up new careers, which previously would have been heavily male dominated.
Charlton Athletic supporter, former sports injury therapist for Arsenal Ladies and BiKBBI CEO, Damian Walters explains: "There has been a seismic shift in the last few years of the general acceptance of women in trades that have traditionally been the domain of men like general building and plumbing.
"This change of attitude has been most identifiable in sport, with a much 'levelling of the playing field'. For example, the FA (Football Association) has made huge strides in creating opportunities for women and girls to play our national sport; football is now officially the biggest female team sport in England with almost 150,000 players competing in affiliated leagues and cup competitions. This represents a percentage increase of a whopping 1,425% in the last 15 years (there were just 10,400 participants in 1993 when records began).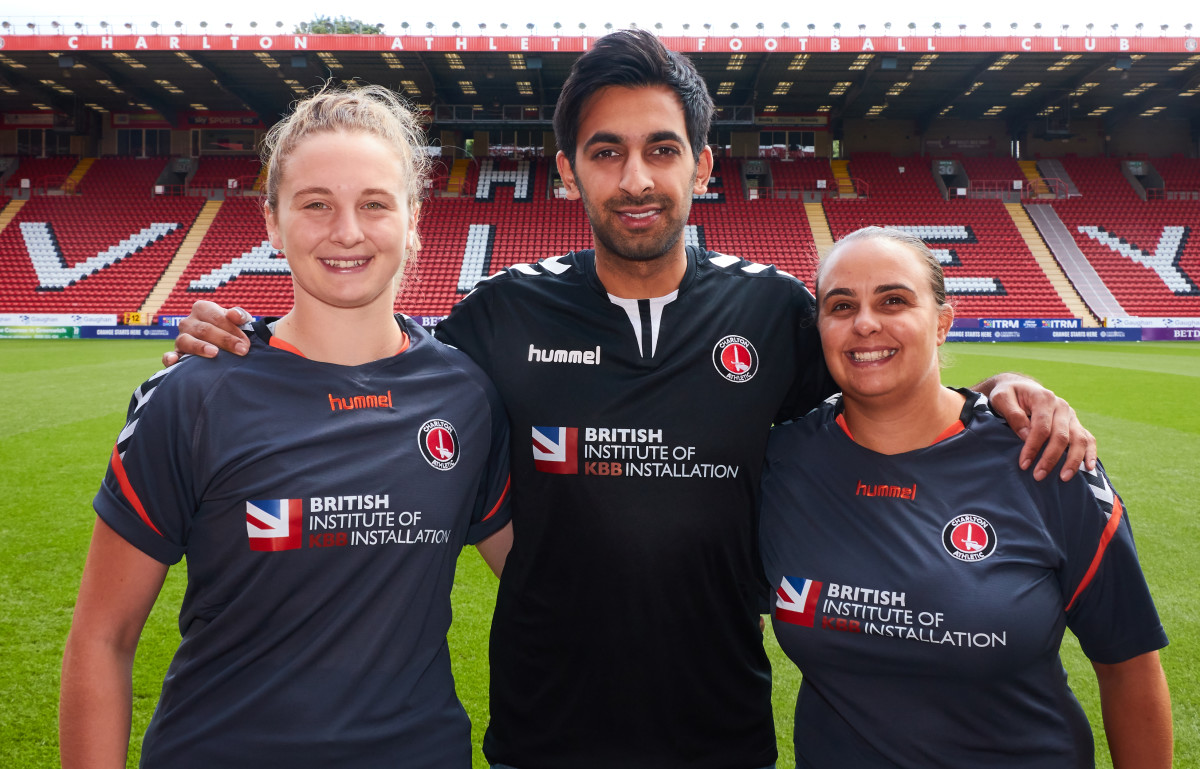 "This is no ordinary sponsorship deal. Our industry needs to attract the next generation of installers and this should be inclusive with a fair representation from women. The BiKBBI has welcomed its first female members in the last few years but, in all honesty, we are only scratching the surface because the growth potential is vast as women can massively help narrow the current skills shortage."
Women's General Manager Steve Adamson said "We are very excited to have signed a three-year deal with BiKBBI, an organisation which shares so many of the same values as the club.
"As soon as we started talking to BiKBBI, it was clear that we were talking with a partner who wants to be involved and improve the women's game, and I'm proud that this partnership is going to be a lot more than what is seen on the football pitch.
"We have a tough season ahead and we can't wait to welcome members of BiKBBI as well as many other fans down to The Oakwood to cheer on Charlton."