The Valley will go pink for our home game against Oxford United on October 23rd to raise money for Cancer Research UK as part of Lyle Taylor's Pink October campaign. 
Lyle has dyed his hair pink and will also be wearing pink boots for the month as he looks to raise money and awareness for the charity. You can donate online here.
He explained: "The Oxford game on October 23rd, the theme is pink. I think everything is going to be pink, we're trying to get people to wear pink clothes. There are pink hats, we're going to try and do as much as we can. I won't be the only one in pink which will be nice. 
"If people want to dye there hair pink, they can, I'm more than happy. It's about everyone coming together as a club and I think if we can show that solidarity and everyone is in pink, this will reach a lot further than otherwise it would."
The date is particularly important to the striker who lost his aunt Lisa to cancer last year. Her birthday was October 23rd and Lyle will have his family in attendance to support him and the campaign at the game against Oxford.  
Lyle has scored in both games this month in his new pink look and to date has raised more than £3,500 on his giving page.
Lynn Daly, spokeswoman for Cancer Research UK in London, said of Lyle's campaign: "Cancer has clearly left its mark on Lyle and his family. We're really grateful he's decided to go 'pink' for the month and raise money that will help our scientists prevent, diagnose and treat all 200 types of cancer.
"The charity receives no Government funding so this kind of fundraising is really important in the fight against cancer. 
 "Thanks Lyle and Charlton – you're onto a winner!" 
As well as the pink theme throughout for the game against Oxford, other confirmed activity includes:
A bucket collection for Cancer Research UK
A pink matchday programme with 50p of every programme sold donated to Cancer Research UK
Also on display will be some of the activity already launched as part of the month. This includes club sponsor BETDAQ changing their sponsor boards around the pitch pink. Meanwhile the club shop has gone pink and a special pink beanie is available with £1 in every beanie sold donated to the cause.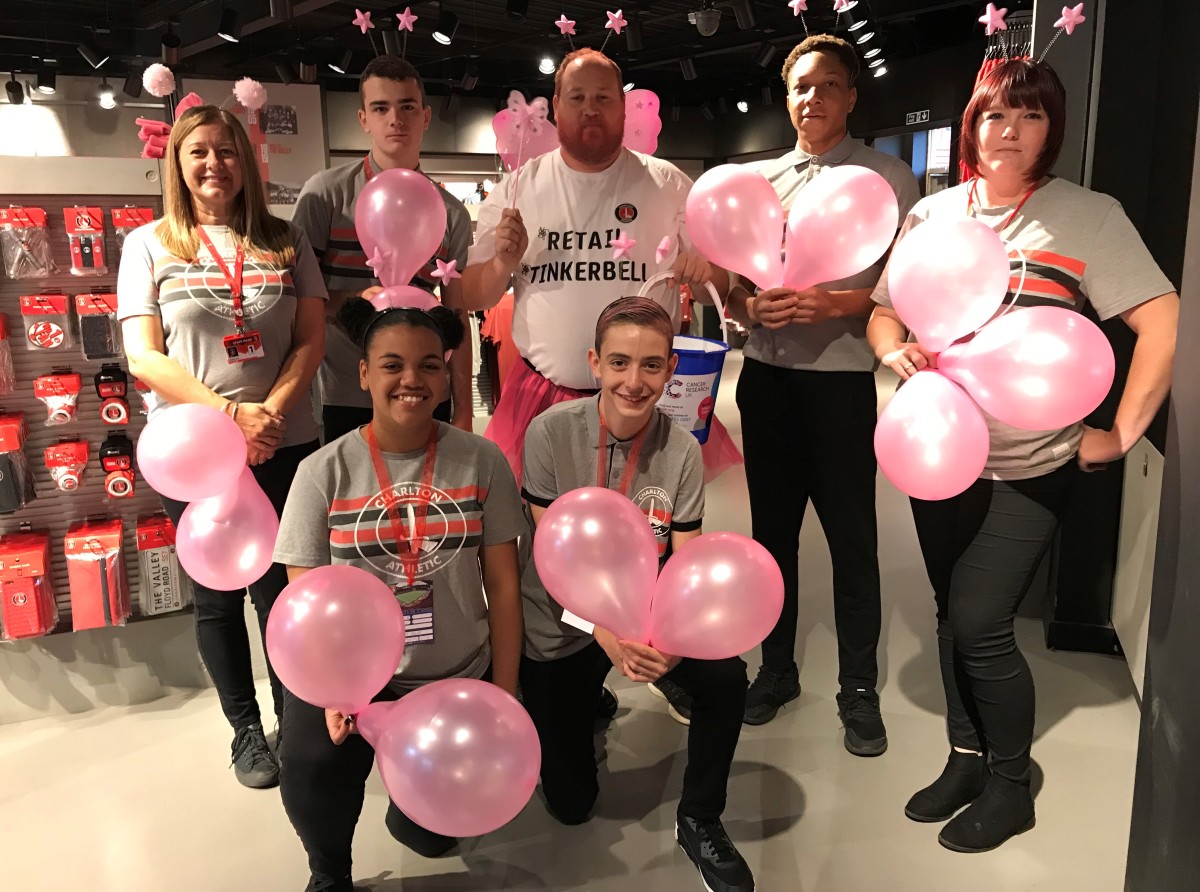 For Lyle, the campaign is about starting a conversation and getting people talking and thinking. He explained: "It's about raising money but more than the money it is about raising awareness for Cancer Research UK. With October being Breast Cancer Awareness Month and pink being the colour of choice, it's just about trying to get a conversation started. If we can get as many people talking about pink and charity work then I think it is definitely a success.
"Three of my four grandparents have suffered, beaten or are living with cancer of different forms. My aunt passed away last year, the morning we played Charlton in the FA Cup. I've got a list of people as long as my arm, who have suffered and lost that fight and some that have beaten it as well. It's not just about me, I've had so many messages from other people about this and about what I am doing. The support has been fantastic from the Charlton fans, to fans of other clubs, to the players, to the women's team. It's just been brilliant and I am proud to have done it and I am actually excited for the month."
Charlton Athletic Player Liaison Officer Tracey Leaburn said: "When Lyle first came to me saying this was something he wanted to do, I don't think either of us thought it would generate the money and awareness it already has and we still have most of October to go. Everyone at the club has been so supportive, the players, the fans, the sponsors and the staff. We're all so proud of the work Lyle is doing to help fight a truly horrendous illness and it is great to see everyone coming together to support Lyle. The game on October 23rd will hopefully be a special day and help increase the reach of Lyle's campaign."