Charlton Athletic secured their place in the Sky Bet League One play-off final at Wembley with a dramatic 4-3 penalty shootout victory at home to Doncaster Rovers.
The win means the Addicks will take on Sunderland on Sunday, May 26th in a rematch of the famous 1998 play-off final
We've been given 36,918 tickets for the game and they go on sale online and over the phone (03432081496) from 9am on Saturday, May 18th.
Restrictions
Please see below a list of qualification dates to purchase tickets:
Saturday, May 18th at 9am: 2018/19 season ticket holders, 2019/20 season tickets holders and Valley Gold members can purchase a maximum of four tickets.
Sunday, May 19th at 10am: 100 loyalty points can purchase a maximum of four tickets
Monday, May 20th at 9am: Any members on the database, as of May 17th, can purchase a maximum of six tickets. Those who will have already purchased will be able to purchase an additional two tickets
Thursday, May 23rd at 9am: General sale
Prices
Cat 1 £80.00 adult, £60.00 Young Adults (Under 22), Over 65/Under 16 £40.00
Cat 2 £62.00 adult, £46.50 Young Adults Under 22),, Over 65/Under 16 £31.00
Cat 3 £56.00 adult, £42.00 Young Adults (Under 22),, Over 65/Under 16 £28.00
Cat 4 £52.00 adult, £39.00 Young Adults (Under 22),, Over 65/Under 16 £26.00
Cat 5 £40.00 adult, £30.00 Young Adults (Under 22),, Over 65/Under 16 £20.00
Cat 6 £30.00 adult, £22.50 Young Adults (Under 22),, Over 65 /Under 16 £15.00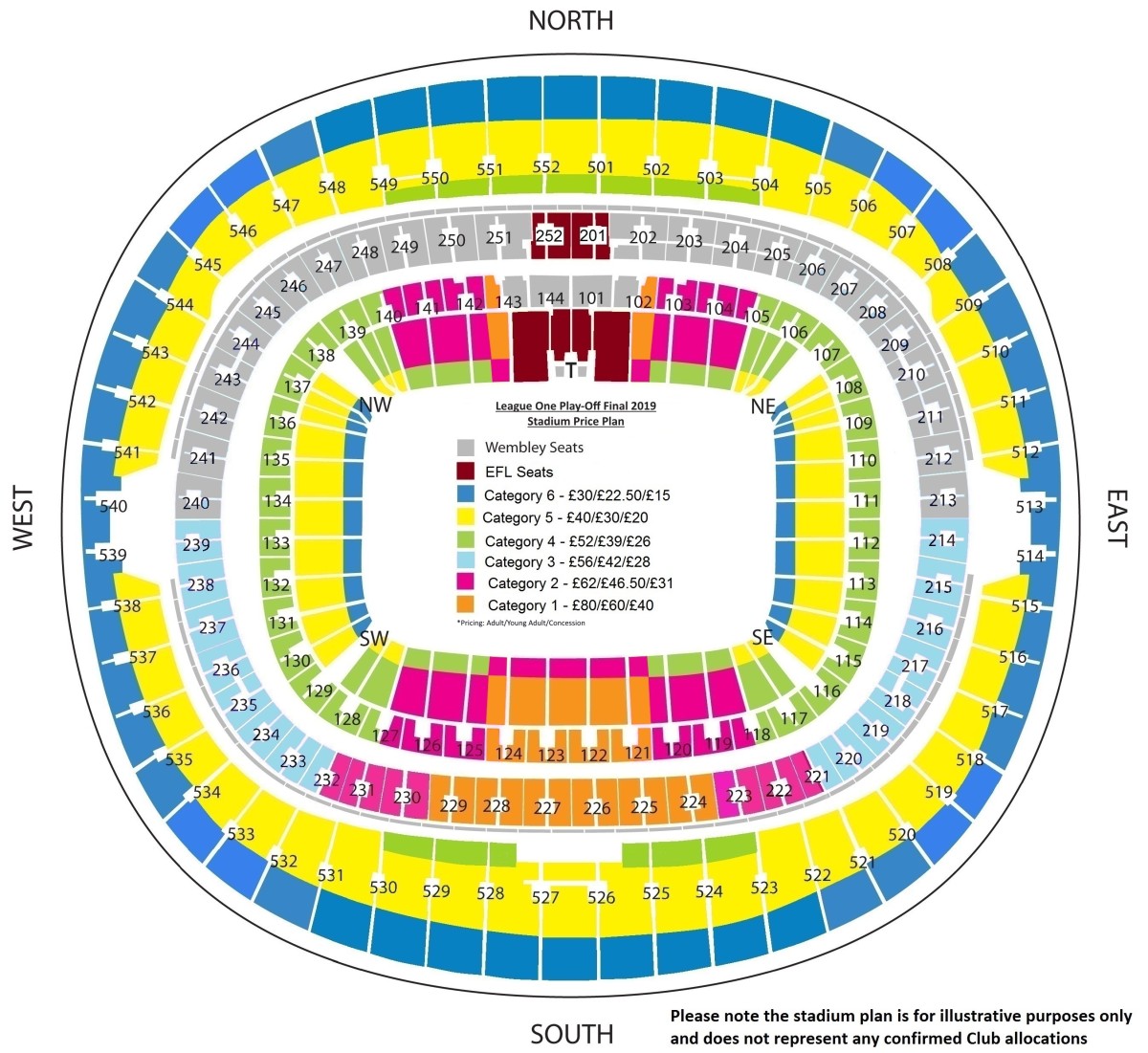 There will be a booking fee of £2.40 per ticket and £2.50 per booking delivery cost whether an individual purchases online or over the phone. 
All children under the age of 14 must be accompanied by a responsible, full paying adult. Please note that concession tickets cannot be upgraded and adult tickets cannot be downgraded under any circumstances. – This is very important.
When and how to buy
The quickest and easiest way to book your tickets will be online at booking.cafc.co.uk.
In the early stages of ticket sales, there is likely to be a queue for our website, so please be patient. 
Fans are also able to purchase over the phone by calling 03432 081 496. Phonelines are expected to be busy with long queue times. All calls to this number are charged at standard rate. 
It is important to note that tickets will not be available to purchase in person. Please do not turn up to the Ticket Office at The Valley as we will not be able to serve you. 
Opening hours
Supporters will be able to purchase tickets 24 hours a day online by visiting booking.cafc.co.uk. Our dedicated call centre is open 9am-9pm Monday to Saturday and 10am – 8pm Sunday. 
Receiving your tickets
All tickets will be sent out by first class post. Tickets will be posted from May 20th onwards; no tickets will be posted prior to this date.
Any tickets bought by supporters based outside the United Kingdom will need to be collected from the Ticket Office at Wembley Stadium on the day of the game – full details will be communicated via e-mail closer to the date of the game.
Loyalty points
Supporters will receive 10 loyalty points for this match.
Disabled and visually impaired supporters
Disabled supporters will receive a ticket free of charge for their personal assistant/carer/companion when purchasing a ticket for themselves. To qualify for an ambulant disabled
 or wheelchair ticket, you will need to have provided the Charlton Athletic ticket office with a copy of your PIP/DLA letter. If you have not already done so, you will be unable to purchase an ambulant disabled/wheelchair ticket. 
If you wish to register your letter, please email a copy of it to ticketsid@cafc.co.uk. One of our ticket office team will then send a confirmation email back to you confirming that you have been registered and can purchase a disabled ticket. Please note that during this time the ticket office will be receiving a lot of enquiries so it may take some time to respond to your email. 
Wheelchair spaces
Disabled supporters' tickets (both ambulant and wheelchair) are charged at the relevant price for the area in which you wish to sit, along with free personal assistant tickets. 
We have been allocated 120 wheelchair spaces, with 90 in the Lower Tier, and 30 in the Upper Tier.
Tickets will be sold under the same periods of sale and are only available online or over the phone. 
Disabled supporters who require a carer don't need their helper's FAN ID when purchasing. Please just use the FAN ID and postcode of the disabled supporter as this will allow you to book for you and your helper. The helper will show up as a zero value. 
There are a number of seats which have step free access that are recommended for person with mobility difficulties which are positioned in Level 1, Row 31. 
For any fans requiring head-sets and mini-induction loops, these will need to be booked in advance. Please enquire by emailing accessforall@wembleystadium.com 
Issues with purchasing tickets
If you encounter any issues in accessing your account with Charlton Athletic online, please phone our call centre on 03432 081 496. Alternatively, you can email our ticket office at tickets@cafc.co.uk for assistance. Please note that both of these avenues are likely to be extremely busy so please be patient in waiting for a response. We hope to respond to all emails within 48 hours, however due to the large volumes of emails expected this may take a little longer.  
Supporter ID numbers can be found on both season tickets and matchday tickets, as well as any email confirmation from previous purchases with the club. Please check these areas before calling as it will save you time when purchasing/querying. 
The club can not offer refunds on tickets.
Family area
If you are travelling to Wembley with your family, you may wish to sit in our designated family area of the stadium. This is an area in Blocks 137-140 consisting of approximately 1700 seats. Tickets in this area are only available to fans purchasing at least one 16 and under price class ticket at a ratio of no more than two adults per one child, at a maximum of three children for every adult ticket. 
Singing area
The support this season has been fantastic both at The Valley and away from home and we hope Wembley will be no different. For fans wishing to sing/chant on the day, we recommend that they should site in the designated singing area, which are Blocks 133 and 134. 
Crowd flags and musical instruments
Any fans wishing to take flags or musical instruments to Wembley must obtain permission. To do this, please email fans@cafc.co.uk to request permission. Anyone wishing to gain entry to Wembley carrying flags or musical instruments without prior permission will not be permitted to enter.
Wembley Stadium have strict polices with regards to supporters bringing in musical instruments without prior permission so please make sure you obtain it.
Official coach travel
Charlton Athletic will be providing both Wembley Express and Wembley Away services to Wembley Stadium. Coach travel is subject to availability and will be sold on a first come, first served basis. Booking a space on one of our coaches does not guarantee you a match ticket and it does not include a ticket within the price. 
Our Wembley Away service will be running with pick up points at Larkfield, Gravesend, Dartford, Bromley, Eltham and Charlton. Tickets are priced at £18 per person and can be booked either online or over the phone. The pick-up times are as follows: 
Larkfield 10:20am, Gravesend 10:35am, Dartford 10.55am, Bexleyheath 11:25am, Bromley 11:40am, Eltham 11:55am and Charlton 12:20pm
Our Wembley Express home coach route travels from parts of East Sussex and Kent. For a full list of pick up points, please visit
https://www.cafc.co.uk/tickets/home-game-travel.
Tickets will be charged at £18 and can be purchased online or over the phone.
Travel to Wembley Stadium
Wembley stadium will shortly be issuing a full travel pack for Charlton Athletic supporters to travel to Wembley. Please keep an eye on our website and social media pages as well will publish this as soon as we have received it. 
Car parking
Where possible, we would advise fans to travel to Wembley via public transport. Parking however for supporters and supporter coaches can be purchased via www.wembleyofficialparking.com or by telephone 0208 903 6966. Car Parking is charged at £90.00 per coach and £30.00 per car if booked in advance. Parking is subject to availability and may be subject to a price increase on match day. 
Blue badge car parking at Wembley Stadium is available to purchase at a discounted rate of £15.00 per space. This is subject to availability and may be subject to price increases on a match day. 
Hospitality
There are a number of packages available to purchase for hospitality at Wembley Stadium. These packages comprise a premium match ticket, three course plated menu, inclusive beer, wine and soft drinks pre-match and at half time, cash bar for one hour post-match and a match day programme. Packages are priced at £269 per person including VAT with discounted prices for children. There is also an admin fee charged at £20 per package. For further information, please contact Club Wembley. Fans will not be able to purchase hospitality through Charlton Athletic Football Club. 
Resale of tickets
It is an offence section 166 of the Criminal Justice and Public Order Act 1994 for any unauthorised person to sell tickets. 
Tickets terms and conditions 
Tickets are sold as instructed by the EFL and as per terms and conditions of sales which can be viewed on www.efl.com/ticketconditions.