Charlton legend Paul Mortimer will take charge of the Proud Valiants in the club's fourth annual Charlton v Homophobia tournament next week.
The event will take place at The Valley on the evening of Monday, May 27th and helps raise awareness of LGBTQI+ football. The tournament sees six LGBTQI+ friendly teams taking part in an 11-a-side tournament.
The annual tournament continues an ongoing campaign aimed at tackling homophobia in the game.
Speaking on the issue of homophobia in football, the Valiants' patron and manager for the event, Paul Mortimer said: "Homophobia is still a major issue, and must never be ignored, but we must be robust in our challenge to all forms of homophobic behaviour in and around the football environment.
"I, for one, look forward to the day that all homophobic behaviour within the football environment is eradicated, we have to make a strong start, and with the help of the football club and community trust we can, at Charlton, start to really make a stand in combating all forms of homophobia and promote equality and diversity throughout our great club, and football in general."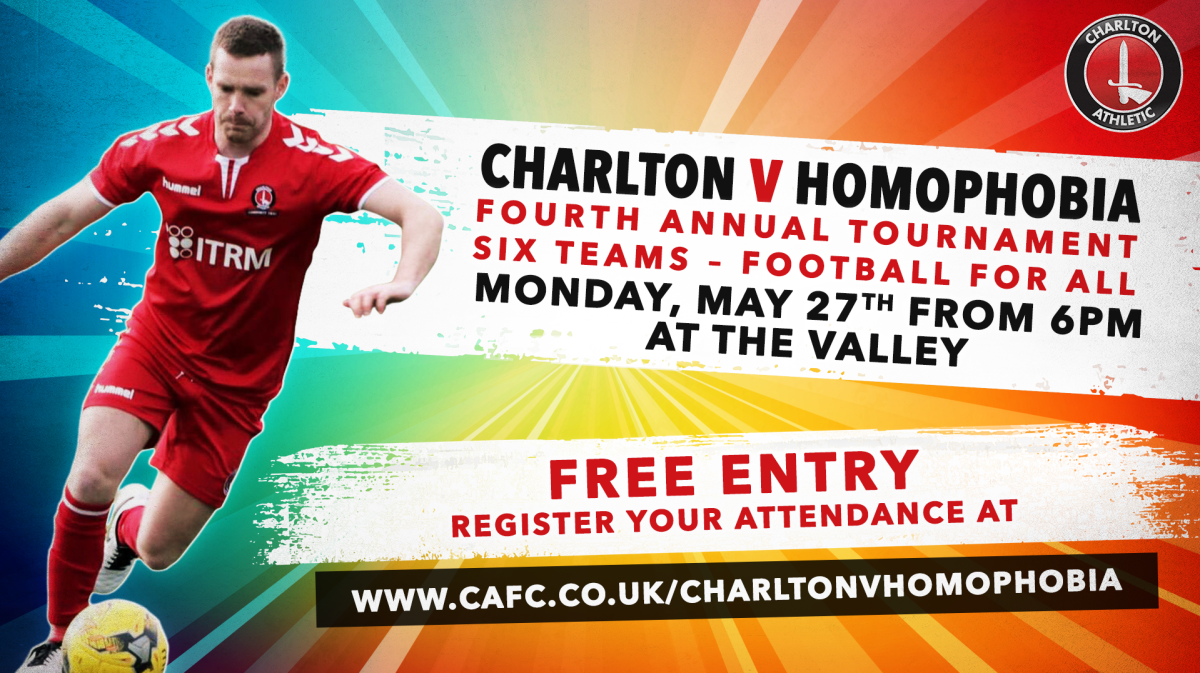 The tournament continues the club and CACT's commitment to raising the profile of LGBTQI+ football which includes:
•    A Charlton Athletic matchday each season dedicated to Football v Homophobia
•    The continued support of the Proud Valiants, one of the country's first supporter groups for LGBT
•    CACT affiliating to CACT Invicta
•    CACT delivers a wide range of programmes designed to promote equality and tackle discrimination, including issues relating to identity, gender and prejudice, and has a dedicated Equality, Diversity and Inclusion strand
•    The Charlton family being represented at Pride in London
Fans can find out more about the free event and how to get tickets at cafc.co.uk/CharltonvHomophobia