Charlton manager Johnnie Jackson says it's full steam ahead for his side as the Addicks prepare for this weekend's New Year's Day clash against Wycombe Wanderers at The Valley.
After an enforced two-week break owing to positive COVID-19 cases coupled with injuries, the Addicks return to action looking to continue their near-flawless league form in SE7 under Jackson having claimed 13 points from a possible 15 on home soil.
"It's been difficult, obviously it's not been a two-week period where we're just putting our feet up and people have a chance to refresh and stuff like that," explained the manager. "People have obviously been missing, people have been ill with Covid and it's something that we have to take very seriously.
"Obviously there's a lot of return to training and return to play protocols that go hand in hand with that as well," he continued. "It's not just a question of being off until you're okay and then you're back and everything's fine - it has to be managed really carefully. So, it's been two weeks since our last game but obviously it was necessary with the amount of people that we had missing. We were unable to fulfil those fixtures so it's been a challenging time, but hopefully we're through the worst of it now and it's full steam ahead for Saturday.
Click here to get your ticket for Saturday's game.
"We're certainly back to a position where we can fulfil the fixture - that's certain. We'll have some lads back and available, others who might be a little bit touch and go; like I said before with their return to training and return to play protocols that might mean that a few miss out."
The boss provided positive news on the fitness of Adam Matthews and Corey Blackett-Taylor following respective calf and hamstring injuries while also issuing an update on defensive duo Ryan Inniss and Sam Lavelle.
"Adam has been back training with the group, as has Corey Blackett-Taylor," revealed Jackson. "Hopefully we can start integrating them back into squads and get them match minutes. 
"Sam Lavelle is progressing really nicely," he added. "He was out on the grass today. He joined in a very small bit of light training at the start of the session and then went off and did some more rehab-based stuff. It's great that he's back out on the grass and can be involved in sort of passing drills and things like that. We hope to have him back with the group next week. 
"Obviously the break has given Ryan a little bit more time. I think it was great that he came to Plymouth with us and managed to get on the pitch - that probably was a bit of an accelerated programme for him. It wasn't something that we particularly had in mind for him. We had a plan where we could integrate him back in, maybe with some minutes for the U23s but obviously their programme has been curtailed as well. Losing [Akin] Famewo for that game and [Deji] Elerewe through injury sort of meant that we had to bring Ryan along to be involved and then we obviously lost Sean Clare during the game as well.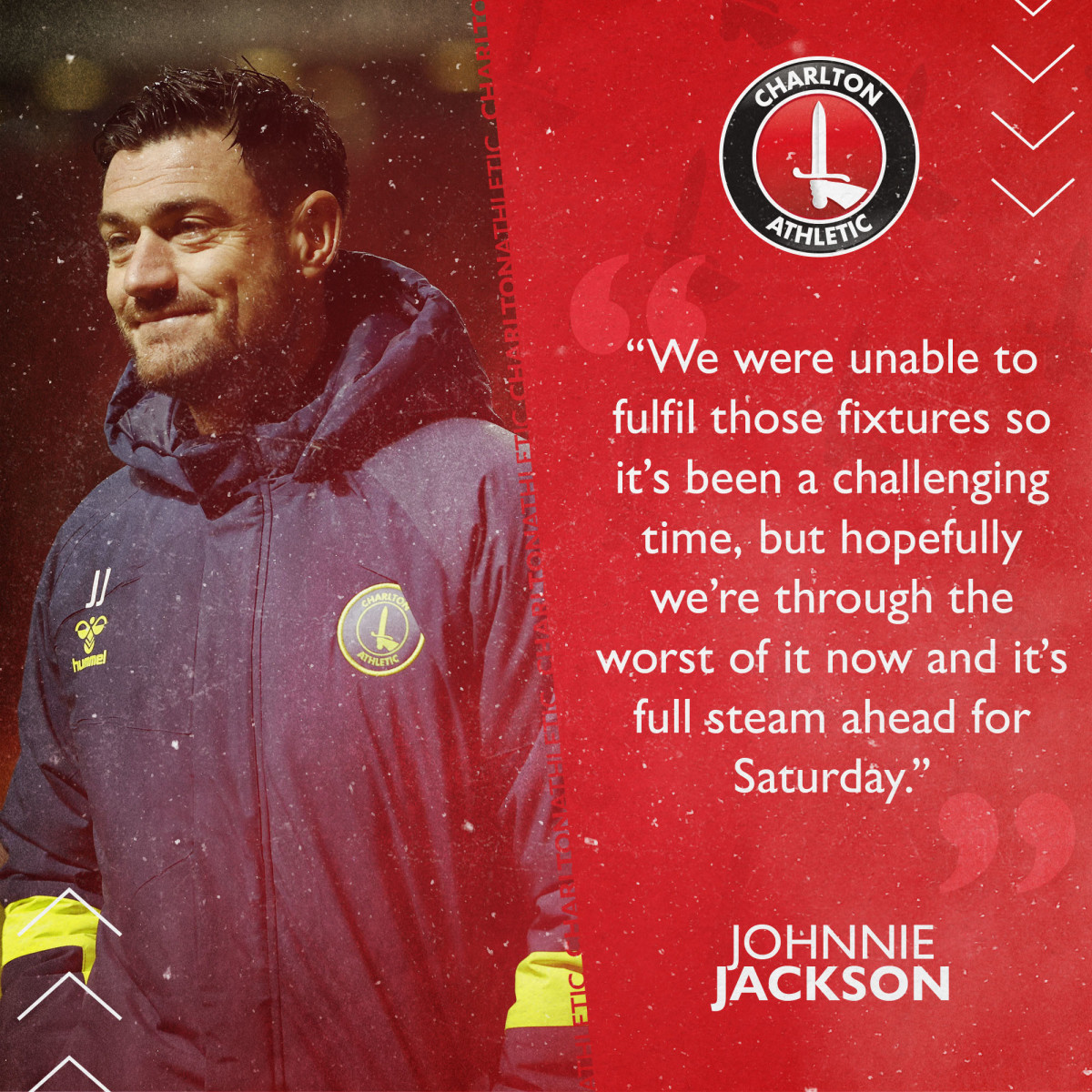 "So, Inniss probably found himself on the pitch quicker than perhaps any of us anticipated, but it's great to have him back. He came through it fine and he's been training fine. Obviously we still need to manage him carefully, he's been out a long time and he's only played 20 minutes of football in the last four months." 
Meanwhile, Jackson is well aware of the threats carried by the Chairboys having seen Saturday's visitors triumph 2-1 at Adams Park in September thanks to a Garath McCleary double either side of the interval.
"Wycombe are a really good side, a really tough team to play against," he said. "Obviously we've come up against them and lost at their place so that's something we will be looking to put it right. They're a strong side, obviously they came down from the Championship last season and managed to keep a lot of their squad together. 
"So, they've definitely got a lot of threats in their team and they've got a style of play that makes it very difficult for you to defend against. We'll be ready for that, we've worked on that and we know what they're about. We know what we can do and obviously we have to try and concentrate on how we can try and hurt teams. Our home form has been excellent as well so we're looking to build on that going into Saturday, knowing that we face a real tough task against a good Wycombe team."
The New Year's Day fixture will also mark Jackson's inaugural home match as permanent Charlton manager, a title the boss admits fills him with immense pride.
"It's a wonderful feeling, obviously it's heartwarming that there's that good will towards you," beamed Jackson. "When I was announced permanent manager I got some lovely messages from people that I've worked with - staff, ex-managers, supporters. It was incredible the amount of positive messages that I had so I'm really, really grateful for that.
"I'm really pleased with how it's gone since I took over. I'm not going to sit here and say that we're Charlton and we're happy being mid-table in League One, obviously we're not. We want to improve on that, we want to climb the table but I have to remember where we were when I took over. 
"We've managed to get ourselves competitive again and we have climbed up a fair bit in the league, but obviously we don't want to stop here. I'm pleased with how it's going and how it's gone since I took the reins certainly, but I'm not pleased with the overall picture of where we find ourselves. But I'm confident that if we carry on in the same vein that we have done in the previous 10 games that we can definitely climb to higher places and start kicking on. In the second half of the season we obviously want a much better record than what we had in the first half."